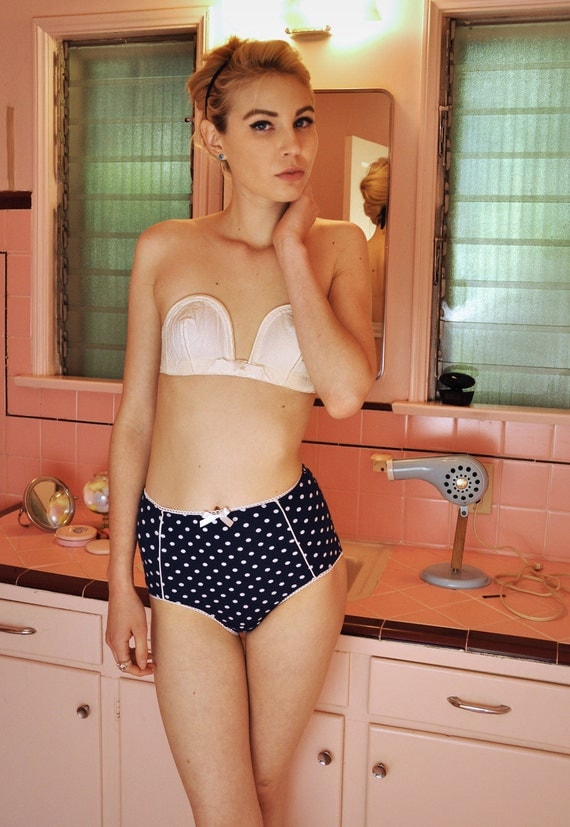 Knickerocker
Etsy is a great place to shop for beautiful handmade lingerie. I've found so many lovely brands that I probably would never have heard of if I hadn't been browsing through the extensive lingerie for sale on the website. I want to share some of my current Etsy-found favourites: featuring Katherine Louise Kerrison, Knickerocker, Nearer the Moon and Rebecca Ansah.
Among the many advantages of shopping for lingerie on an Etsy store, what I love most is the personal touches. As it's pretty much all made-to-order, most designers will let you pick and choose between their available fabrics or submit your measurements for a perfectly fitting garment. Katherine Louise Kerrison even includes 2 pairs of knickers with each set and gives you the option to add particular components to your bra. For example, if you want to wear the set as a bikini, she'll line it for you and if you aren't a fan of bandeau style bras, she'll add straps. Her beautiful floral lingerie is perfect for spring and I love the bow shaped bras.
Etsy also features a lot of newcomers to the design world which often means a vast selection of bespoke products and some really quirky designs. I love the Knickerocker peephole panties (middle top) and with a multitude of colours, styles and prints, there really is a knicker for everyone on the store.
Nearer The Moon are bang on trend with the 'Gatsby' bra (bottom left and middle) which is so fun and will keep you feeling ultra glamourous with that amount of sparkle under your clothing. The playsuit with leather straps and collar (right) would look great with some seamed tights and a pretty shirt worn underneath.
Rebecca Ansah's lingerie features this gorgeous blue colour with great modern, quirky designs such as the Zuri brief (middle). My favourite piece is the Andrina bodysuit (right) with it's flattering mesh and jersey panels. It has a scooped back which makes it perfect to wear with low-backed dresses and it was even worn by dancers on the X Factor!
I'd really recommend branching out through Etsy and seeing what you can find. It can be really rewarding!
- Booty
Don't forget to enter our
Playful Promises giveaway
! Only a few days left!
Follow us on