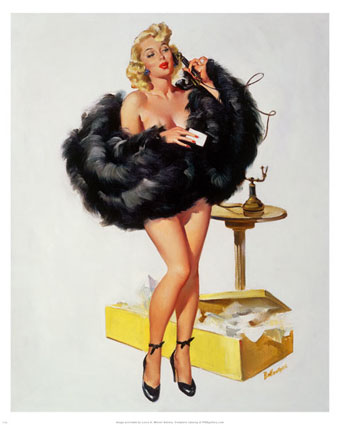 For all the aspiring retro Pin-Ups out there, I'm going to share what I consider to be the knicker draw essentials to achieve that Elvgren lingerie look. I've also picked a few examples of these Pin Up must-haves to suit a range of budgets. Whether your wallet (or purse) is looking skinny or you're more fortunate with your finances, I hope you find the retro goodies for you.
Total Cost: £139.50
What you need in your collection
1
.
A
slip
. Slips are great because not only do they add a lovely retro twist to your nightwear, they smooth out your body line under garments. I wear mine under sheer dresses. I've chosen a vintage peach one with a lace round neckline (
beyondretro.com
- £14) and a pleated black one with lace detailing on the top (
topshop.com
- £46). Take a look at Toots's '
High Street Lingerie Pick of the Week
' to see how you can convert these into gorgeous outfits.
2.
Stockings
are vital to achieving the look. More particularly fully fashioned seamed stockings. I prefer my stockings in black but nude is even more authentic. Fully fashioneds can be a real pain in the arse to find but luckily the world has Gio and Cervin! (Example 1 from
giostockings.com
- £9 and 2 from Cervin @
Kiss Me Deadly
- £30)
3.
Bullet Bra
s aren't everybody's cup of tea but there really is nothing else like them if you want to your underwear to fit the Pin-Up niche. Also, most vintage garments are designed to fit the pointed breasts that were so popular in the 1940's and 50's. So if you shop vintage, the bullet bra will make your fabulous clothes fit even more fabulously! I couldn't talk bullet bras without visiting the What Katie Did website so my first choice is the Maitresse Bullet Bra (
whatkatiedid.com
- £29.50). My second is from retro brand
Secrets in Lace
($49/£31.77).
4.
Creating the illusion of a tiny waist was key for the era of the hourglass figure. For those of us that aren't so lucky, there are
high-waisted knickers.
These are excellent for nipping you in and no, they don't have to be "Bridget Jones pants". Big knickers can be sexy too as I can display here with the Maitresse knicker from What Katie Did (£17) and the Bettie Waist Brief from
Bordelle
(£83).
5.
Pin-Up is all about being playful. And what's more playful than a cute
babydoll
covered in ruffles? I've gone for vintage from Beyone Retro again for a pretty little blue number (£13) and
Betty Blue's Loungerie
for a super voluminous lemon babydoll (£75).
Total Cost: £413.77
6.
What better to hold up your new seamed stockings than a sculpting
girdle
? I love girdles because they're the best way to nip yourself in and flatter your figure without having to wear something that resembles your gran's control pants. These ones are particularly beautiful: roll on girdle from Kiss Me Deadly (£25) and Selene girdle from
Lulu & Lush
(£45).
7.
The
longline bra
has a multitude of benefits: enjoy a retro shape that you can keep on display with a pencil skirt or team with high-waisted briefs to accentuate an hourglass figure. I love this Pastel lace one from Topshop (£22) because the colours are oh so feminine while the Glamour longline from What Katie Did (£39.50) is just a little more "Lick my boot slave".
8.
Again with the playful theme,
frilly knickers
add a striptease "va va voom" to your lingerie. You can either go super frilly like the
Playful Promises
frilly knickers (£10) or with just a hint of frill like the Kitty Ouvert from
Lascivious
(£64).
- Booty